Praise Report from Miracle Mission Philippines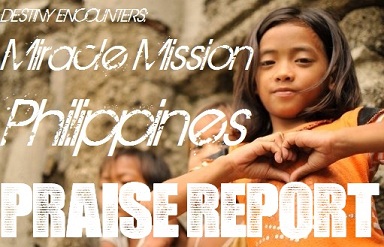 Dear Partners and Friends of Revival, We have just returned from, what I must say, was one of the most powerful miracle missions to date. Words can't describe all the wonderful things that took place while we were in the Philippines. From start to finish the manifest presence of God was everywhere.
There were so many miracles that we lost count; from tumors disappearing, deaf ears opening, to metal dissolving nothing was impossible for God to do! We want to thank all of those that so graciously and sacrificially gave to help make this mission possible. Without your help none of this would have been. Thank you so much!
For many years now Mindanao has been plagued with persecution from extreme Muslim jihadists that will stop at nothing to murder and kill all those that are opposed to their radical beliefs. This fear has stopped many preachers from traveling to this region to release the glorious gospel of Jesus Christ, but God compelled us to go and proclaim the freedom of Christ to all those that were living in fear. Starting on Sunday morning God began to move very strongly with manifestation and demonstration of His healing power. The Lord revealed to my father a specific word of knowledge that happened to be directed at the Mayor of the city where the meetings were held. The Mayor came to the front and received an instant miracle from pain in his back that shot down the back of his leg. It was amazing to see the power of God heal this man who had been in pain for many years. On Monday morning we were taken to his office where God used us to prophesy many things into the Philippine government that I know will make national news in the next twelve months. I cannot disclose what was said in this meeting, but I will tell you that the glory came in so thick that a cloud began to form in the center of the table. God is up to big things in the Philippines!
Every meeting was packed with the thick tangible presence of the Lord and miracles manifested to such a degree it was hard for us to keep up with all that was taking place. The Apostle of the denomination we were there with personally told me that they had not experienced such raw demonstration of miracles since the 1950's when A.A. Allen had ministered on that Island.
There were two extraordinary miracles that really blessed me and I wanted to share them with you. The first was a young girl that I called out by word of Knowledge that had been in an accident. A tree had fallen on her, hitting her in the head and puncturing the skull area. As a result, the doctors had inserted a metal plate into her skull. As she made her way to the front for prayer I knew the Lord was about to do a great miracle. You could feel the power of God in the air as I laid my hands upon her. She began to shake violently and weep as God dissolved the metal. It was so powerful! God is truly a God of signs and wonders! The second testimony was of a young man who came up for prayer for his leg that was two inches shorter than the other one. As we prayed God grew his foot out, leaving him in total shock of what God had done. These were just two of the wonderful miracles that God performed while we were there. So far we have released two videos on you tube, but we should have more up shortly along with a podcast that will share many more stories of the glorious things God did while we were there. Again we want to thank each and every one of you for your prayers and support for sending us the Philippine Islands this year!
Blessings in Christ,
Charlie and Brynn Shamp